December 2008 - Impressive website hits!
Since the launch of the island's website www.ilha-do-guajiru.com and www.theflatwatersea.com at the end of March untill the end of November the site has been receiving an impressive and still increasing!!! numbers of visitors.
Hits on the site recorded the following impressive numbers:
140145 during the month of May 2008!
120000 during the month of June 2008!
147559 during the month of July 2008!
304436 during the month of August 2008!
310650 during the month of September 2008!
345357 during the month of November 2008!

This shows just how many people are searching for a website for this popular holiday destination, and the success of all the promotion made for the spot so far!
A picture of the statistics, as obtained by the end of November 2008: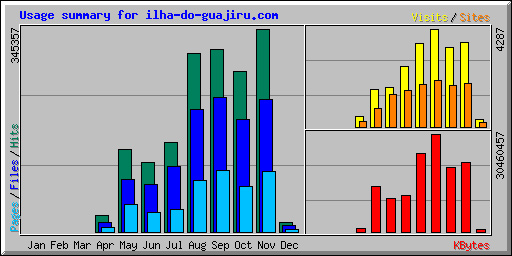 For 2009 Ilha do Guajirú expectations are in line with these proven numbers of hits on the site, large numbers of holiday makers to visit the island and experience the great conditions and beauty.