January 2009 - Worldwide news:
WIND GUARANTEE given at Ilha do Guajiru!
Starting 2009, various pousada's at Ilha do Guajiru start offering all guests a real WIND GUARANTEE!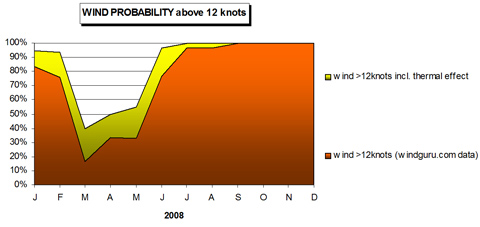 To book under the WIND GUARANTEE programm, please check the presence of the WIND GUARANTEE LOGO at the site of each pousada or their page under "stay" of this website.

The WIND GUARANTEE, given at NO SURCHARGE allows you to stay at NO WIND days FOR FREE!

The GUARANTEE has landed hot in kite- and windsurf world: NO OTHER wind- or kitesurf SPOT worldwide has ever given such hard GUARANTEES, posesses of such TOP WIND statistics as Ilha do Guajiru!

Between June and Jan the guarantee stands for EVERYDAY WIND!, so each day the wind is insufficient to practice your favourite sport, you stay at the island FOR FREE!

Between Feb to May the guarantee stands for MIN. 50 PCT WIND!, so every day more then this, you stay at the island FOR FREE!

A WIND DAY is registered when the wind blows:
- min. 12 knots or more!
- min. 1.5 hours or more!
- between 0600 and 18.00 hrs!

If you think N-E Brazil is only a destination to visit late autumn, you are simply mistaken!

Also visit Ilha do Guajiru, the world's windiest spot, YEAR ROUND...