December 2010 - Land prices increasing again 25% per Jan 1st 2011!
In the middle of a more then booming season, with numerous tourists, kites on the water, and visitors interested to invest on Ilha do Guajiru, more then 2008 and 2009, again, in 2010 an impressive number of lands has been sold.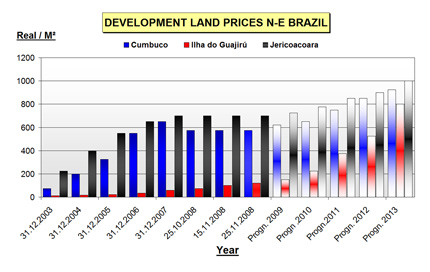 Now, almost 60 % of all beachfront lands is gone!
It's amazing how fast things move forward, especially now the new international airport news started to spread out everywhere in NE Brazil.
Guajiru North International Airport!
The end of the land price increase is in any case by far not in sight:
Land at our popular island is valued at no more then 1/3rd of the price of Cumbuco of 1/4rd of the price of Jeri!
For more information on investments of land at Ilha do Guajiru, please contact Beachlife!